The Railmodeler's Guide
To Saluda Mountain
A highly detailed look at America's Steepest Class 1 Grade
and the theory about how you can emulate that famous hill!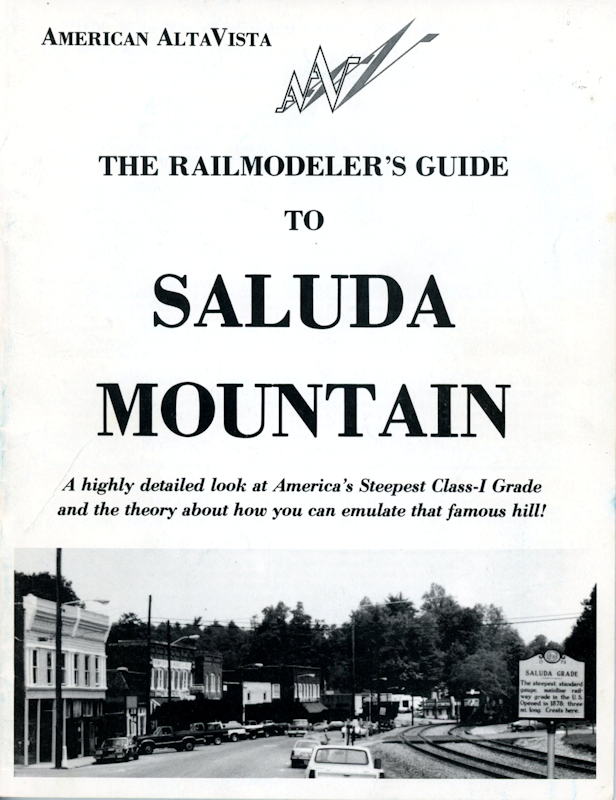 The Railmodeler's Guide to Saluda Mountain
The Railmodeler's Guide to Saluda Mountain is a
publication of AMERICAN ALTAVISTA.
Project concept, development, writing and publication by Bob Loehne. Administrative assistance and perseverance by Debra Harris. Exacting information from Melvin Warren, NS Piedmont Division Roadforeman of Engines. Most drawings by Larry Smith. Research management by Andrea Bost. Photographs used with permission by Janet Bright and Jim Winn. Video magic and more from Gary Barg. Office support from Sherry Jackson & Elaine Black. Studio tricks from Todd Hartman 6c Steve Hall. Field consulting and transportation by Bill Rice.
All rights reserved; no part of this GUIDE may be reproduced in any manner without the written permission of BOB LOEHNE. Acknowledgement given for generous reference to Southern and Norfolk Southern timetables from 1947, 1949, 1971, 1983, 1986 and 1989. Other references are as mentioned in text. Great thanks to all, especially Harriett Loehne.
Copyright 1990, AMERICAN ALTAVISTA.
---
---
WELCOME TO
SALUDA MOUNTAIN

If we didn't get this guide to you soon, the steep grade could have been put out to pasture first. Saluda has been beleaguered by life-long threats of abandonment and recent scuttlebutt has tended to concurrently stoke those fires while calming the fears ... we'll see.
So, if you are interested in modeling America's Steepest Class-1 Grade and wish to see it first hand, perhaps you'd better hurry. If you can't make it, I have just the antidote to go with your skills -guaranteed to cure your steep hill blues. Don't expect this publication to teach track laying, scenery or wiring. Instead, look herein for a combination of steep grade theories and concepts mixed with the realities of driving trains at dreadful railroad angles.
From years ago when I used to hide the steep grades of my model railroads or penciled layouts, I hated hills of more than one percent. I preferred everything nearly flat so train speeds wouldn't fluctuate, but the maze of diamond crossings thus created by long runs were too much. Like everyone else, I could wind a one-percent grade over and around itself time after time until it rose two feet, but then, disliking point-to-pointers even more, how did I get another track back down to connect to the beginning?
It took only a few conversations about Saluda procedures to bring the modeling aspect to bear. Never mind that the procedures differed among Saluda experts. This stretch of track had such an intellectual structure that it clearly lent itself to emulation. Frankly, I first thought of Saluda as the focus of a board or computer game - "Too hot in the zone, spend two moves on the runaway track." In essence, do something wrong on Saluda and pay severe consequences.
Perhaps the game will be next, but for now our bliss is directed at modeling this monster grade before it's gone or becomes a one-way empty hopper route. The first half of this Guide sets the real life stage while the second half digs right into a modeler's point-of-view. Short of actually roaring down Saluda, I believe this work together with my Saluda Video will give you a feel for the respect granted extreme grades and a sense of the reality you can bestow on your model mountain. Come along as we begin with a cab tour around
Saluda's full scale layout. And enjoy ...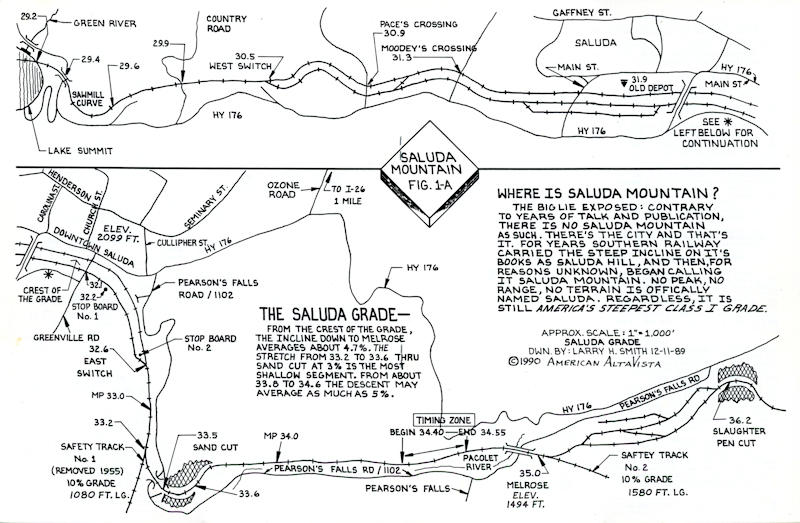 ---
The following articles are written by Bob Loehne
The Grand Tour - Saluda By Rail