If you have any of these awards, then you may join the VFW
Combat Action Badge

Combat Infantry Badge

Combat Medical Badge

SSBN Deterrent Patrol Badge

AF Expeditionary

American Campaign

American Defense

Army of Cuban Occupation

Army of Cuban Pacification

Army of Occupation of Germany
Army of Occupation

Army of Puerto Rican Occupation
Asiatic Pacific Campaign

China Campaign

China Service

Combat Action

Dominican Campaign
European - African - Middle Eastern Campaign

Haitian Campaign

Korea Defense

Korean Service

Kosovo Campaign
Marine Expeditionary

Mexican Service

Nicaraguan Campaign

Philippine Campaign

Spanish Campaign

Coast Guard Combat Action

Vietnam Service

World War I Victory

Yangtze Service

Afghanistan Campaign

AF Combat Action

Global War on Terrorism Expeditionary

Inherent Resolve Campaign
Iraq Campaign

Navy Expeditionary

Second Nicaraguan Campaign

Southwest Asia Service
V.F.W. OBJECTIVES
Are fraternal, patriotic, historical and educational
To preserve and strengthen comradeship among its members
To assist worthy comrades
To perpetuate the memory and history of our dead,
and to assist their widows and orphans
To foster true patriotism
To maintain and extend the institutions of American freedom
And to preserve and defend the United States from all her enemies, whomsoever
To maintain true allegiance to the government of the United States of America,
and fidelity to its constitution and laws.
"We Honor The Dead By Serving The Living"


VFW Post 10349


Post Phone Number is : 828-894-5098
Email : post10349@vfwwebmail.com
The Polk County VFW Post 10349 meets the 2nd Monday of each month starting at 1900 hours. This includes both the Main Post and the Ladies Auxiliary meeting in separate areas of the post.
GPS Location
N 35.17.28
W 82.10.09
Note that when you turn off of NC-108 to the right - you will veer off to the right again and go up to the top of a steep hill.
There is a dinner before the meetings attended by both memberships.
After the dinner then the members hold their meeting in separate areas of the hall.
The VFW Post is located on the West Side of Mill Springs, NC, on Highway NC-108. Their is a sign on the South side of Highway NC-108 pointing up the hill to the Post. Please note that you cannot see the post from this highway.
Not only do we go into the schools here in Polk County, and do Americanism, and youth programs. We do flag education. Our core programs are Voice of Democracy, Patriots Pen, Teacher of the year, and Veterans and Family service. We have a Ladies Auxiliary that we work very well with.
---
Bingo
is played every
Thursday Evening
at (7:00 PM) 1900 hours.

Bingo is open to the general public and everyone is welcome.
Smoke Free and NO Alcohol allowed inside the building.
We have a full kitchen with food and snacks available.
---
If you are a Veteran then we need you to join.
We all have a voice in the community and in Washington as well.
Never pay Dues Again!
Get Your Life Membership Today!
---
---
Remember that you may join and become a life member.
See your commander for more information on how to do it.
By the way, over the years it is a lot cheaper than dues renewal.
---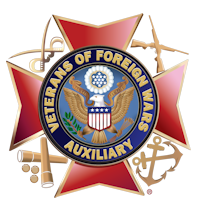 The VFW Auxiliary
Meeting starts at 1900 hours on the second Tuesday of each month.
We meet in another area of the post. All are welcome to attend.
---
Guarding and serving Polk County, North Carolina

"Still Serving America?"
You can too...
Page Updated on
03/18/2020
Site constructed by
Robin
kv4al@charter.net